Conference4me - collective effort
lead by Poznan Supercomputing and Networking Center
Conference4me Team Members: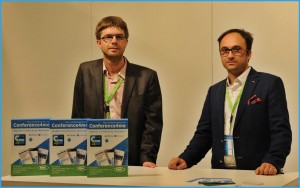 Product Manager
   Marcin Plociennik
Technical support       
Michal Urbaniak
Konrad Leszczyński
Sebastian Mamczak
Rafał Chrupała
Agnieszka Rausch
Customer Service
Agata Wozniak – Juszczak
Agnieszka Banaszak
Agnieszka Rabenda – Tomczak

Leader in implementing innovative technologies, as well as integrating and developing the information infrastructure for science.
Our High Performance Computing Centre that provides computing power, disc space and archiving systems for science, business and public institutions appears on the TOP500 list of the most powerful computing systems in the world!
You are  in good hands – our work is also our life passion!
| | |
| --- | --- |
| | We acknowledge the Outreach Initiative of the IEEE Circuits and Systems (CAS) Society for financial sponsorship in enhancing the Conference4me app |