The 2013 IEEE International Conference on Robotics and Automation (ICRA 2013) is supported by – conference mobile assistant – Conference4me. ICRA 2013  will take place in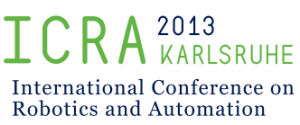 Karlsruhe, 6 – 10 May, 2013.
The conference theme is "Anthropomatics – Technologies for Humans", highlighting the paramount role of Robotics and Automation in improving human quality of life. It is organized by an international committee of experts in various fields of research. The conference attendees can download Conference4me from Google Play and iTunes.
more: http://www.icra2013.org/