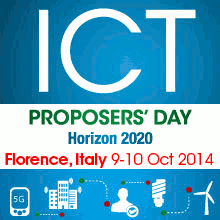 During ICT Proposers' Day participants have ability not only to enjoy Conference4me mobile app but also to contact with our representative Konrad on our booth near to the registration. Visit us and share your opinion about C4me. 
ICT Proposers' Day 2014  9-10 October 2014 in Florence, Italy. The event will focus on networking for ICT Work Programme 2015. All ICT components in the three pillars of H2020 will be addressed.
ICT Proposers' Day 2014, organized by the European Commission, is specifically dedicated to networking and promoting research and innovation in the field of Information and Communication Technologies with a focus on Horizon 2020 ICT Work Programme 2015 and all ICT Calls across Horizon 2020.
The event will offer an exceptional occasion to build quality partnerships as it will connect academia, research institutes, industrial stakeholders, SMEs and government actors from all over Europe. The event is free of charge but registration is required. A networking event to promote European ICT Research & Innovation, focusing on the Horizon 2020 Work Programme for 2015It focuses on the Horizon 2020 Work Programme 2015 in the field of Information & Communication Technologies.
In total, more than 3,000 researchers, innovators, entrepreneurs, industry representatives, young people and policy makers are expected to attend.For more info on ICT Proposer's Day 2014 please visit:
Main event site: http://ec.europa.eu/ictproposersday
Some photos from the meeting below.
[gird-gallery id="1″]