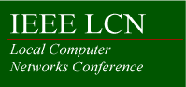 Conference4me team has implemented a mobile version of the agenda for the IEEE LCN 2012 conference.
The IEEE Conference on Local Computer Networks is one of the networking industry's oldest, continuously running conferences. The LCN Focuses on practical, leading-edge applications and research in the area of computer networks. It has an informal, workshop-style atmosphere, offering significant opportunity for speakers, panelists, and attendees to spend time together.
Visit our download section to download a free agenda on your mobile!